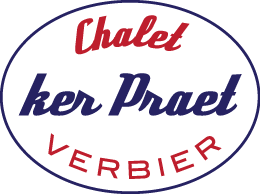 We detected an old browser!

This website doesn't support Internet Explorer 8 and older.
Please upgrade your Internet Explorer to the latest version in order to enjoy this website.
Welcome to Chalet Ker Praet
A stay at Chalet Ker Praet will make your holiday in Verbier an extremely comfortable one, with its ideal location - central yet quiet - and its cozy, welcoming luxury. The chalet boasts beautiful south-facing views of the massive Combins and Mont Blanc mountain ranges. One of the first chalets built by non-Swiss (its owners helped develop both Verbier and the Super St. Bernard ski resorts), the Chalet has been owned by this same family for over 60 years, and has hosted many renowned guests.
Our Chalet can welcome up to 16 people, in a cheerful and pleasant ambience that has been carefully constructed over the years. The furnishings include both the family's keepsakes and antiques, and the owners' collection of contemporary art. Every aspect of the Chalet has been carefully managed to ensure a most agreeable stay for you. And as a small private chalet management company, Chalet Ker Praet offers some of the most knowledgeable and personalized service in Verbier.